The public vote on the future of Catalonia's place in Spain is now only a fortnight away.
Much debating concerning next month's vote has already taken place, during bitter public battles between the central Spanish government, and the country's most productive and profitable region.
The move has been entirely orchestrated from within Catalonia, with the leader of the ruling party, Artur Mas, repeatedly clashing over the issue with Spain's prime minister, Mariano Rajoy.
The situation has intensified since a date was set for what was initially intended to be a referendum, but which recently had to be labelled as a "consultation" instead, after concerns were made by the Spanish Constitutional Court over the legality of the vote, which was subsequently suspended.
For Spain, there appear no benefits to seeing its wealthiest region break away, and a successful Catalan campaign to leave Spain could result in other regions making similar attempts to achieve their own independence in the future – although few, if any, of the country's other 16 autonomous regions could feasibly survive better on their own than as part of a unified Spanish nation.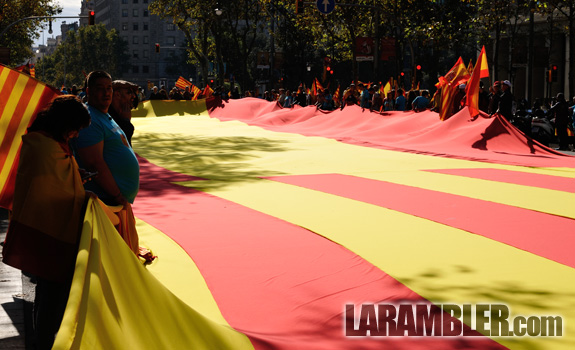 In Catalonia meanwhile, the move certainly presents some risks, though it's easier to see the advantages from their side of the argument.
Aside from the proud cultural identity that Catalans consider unique to the rest of Spain, the main reasons for wanting separation lie with the desire to have more governmental powers to manage the region, as well as a sense that Catalonia isn't currently being given a fair deal from Madrid in terms of its public funding.
The cultural argument is weak, for every region of Spain can make a similar argument. But no other region can make such a strong financial case, and its in the country's economics where Catalans see the real benefits to independence.
Extra power that the regional government will have over Catalan affairs and, more significantly, complete control over its finances are where the debate is being most strongly fought by pro-independence campaigners.
One big financial drawback that does exist is in the level of debt that would have to be dealt with, leaving any newly created state with a need for outside financial support.
An EU bailout wouldn't be an option, because Catalonia's membership in the EU would require an application to be made in order to rejoin – something which could take years. And a smooth process of obtaining EU membership status wouldn't be guaranteed of success if there were fears that an independent Catalonia would immediately look to European funding in order to help with its debt.
At this point in time, such issues are virtually irrelevant. Many obstacles stand in the way of the prospect of Catalan independence, and a legal vote on the issue doesn't seem to be on the cards any time soon.
Even the November 9 consultation will have little bearing on any outcome because it won't attract the same level of turnout that a full referendum would.
Should the consultation indicate that public opinion is strongly in favour of secession from Spain, it may place a little more pressure on Madrid to negotiate Catalonia's level of autonomous power. But it's difficult to see any further ground being handed to Catalonia, given its financial importance to the whole of Spain, and earlier this year, the country's Finance Minister ruled out any review of funding for the nation's autonomous communities.
It's an issue that may involve years of bitter fighting between central and regional governments, and no obvious solution seems to exist at present which would satisfy both parties.